Crushed Blackseed in Forest Honey, Organic – 340g BBE:02/25
Login to see prices
Try our organic black seed honey now to enjoy a unique flavor and its powerful high properties without the pungent aftertaste.
Description
Who said that you have to take black seed oil to feel its powers? The Blessed Seed offers a number of products that you can incorporate into your routine and experience the properties of the Nigella Sativa seeds.
One such way is by using our organic black seed honey that has an incredible flavor! Its rich overtones and honey-flavor significantly lighten the pungent aftertaste that you'd normally experience by ingesting the oil.
It's an exotic and special product that you can use now to improve your health without spending a ton of money on supplements and vitamins. Harvested from the forests of Africa, you need to try it!
The quality and composition of honey is dependent on many things like climate and location but the diversity of the nectar available is important, giving our honey the edge. Our deep forest honey owes its distinctive flavor to the abundance of nectar-producing trees in the Zambian forests from where it is harvested using traditional methods.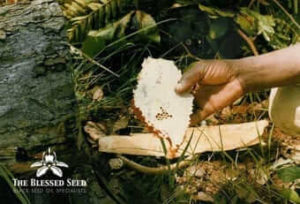 Honey is one of the oldest foods known to mankind and is a complex assortment of over 300 compounds that are all believed to be highly beneficial to its consumers.
Honey is a whole food which is a much better choice than any other sweetener. Honey is used in different cultures and countries as the most preferred natural sweetener. It's totally natural and that's what is the most important element of this product.
When a naturally-produced honey such as our Blessed Seed Deep Forest Honey is added to finely ground organic black cumin seed, you get a delicious synergy between two miracles of nature combined for one great delicious serving for you to realise excellent experience.
We are the best place in which you'll ever find such a perfect combination of highly praised ingredients. Our Organic Black Seed Honey can finally be the product you have always been looking for!